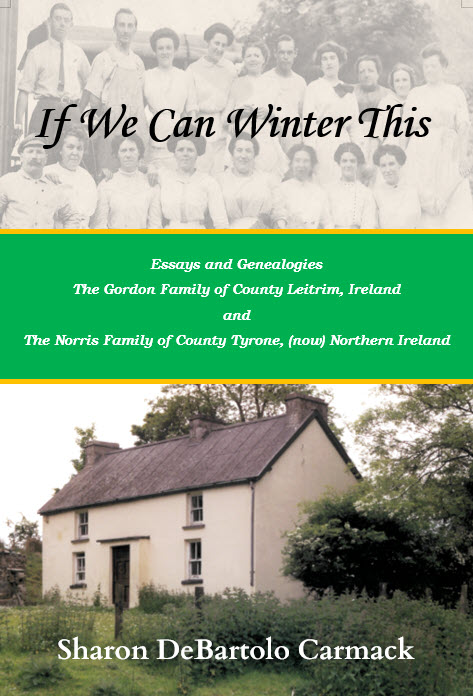 Premarital Sex. Abandonment. Divorce. A love child. Mental illness. Domestic abuse. Betrayal. Alcoholism. Suicide and other tragic deaths. Many of these subjects lurk, often unspoken, in our family histories. If We Can Winter This opens the door to dealing honestly with not only the more common and pleasant aspects of a family history, but also life's difficulties, treating them with understanding and compassion.
A collection of interrelated essays, If We Can Winter This explores the Gordon family of Ardvarney, County Leitrim, Ireland, and the Norris family of Tamlaghtmore, County Tyrone, (now) Northern Ireland, and their lives in the nineteenth- and early twentieth centuries. It features the Irish women in Sharon DeBartolo Carmack's family history, who did what they needed to survive. At the same time, it is a story universal to many immigrant women and their daughters. They came to America hoping to better their lives, yet once here other problems awaited them. Their stories likewise bring attention to the difficulties and successes of the men connected with these enduring women.
Taking lifeless statistics from historical documents, Carmack layers oral history and social history to weave together compelling narratives of the lives of those chronicled here. She also includes meticulously researched and fully documented genealogies of both families. Not only a great read, If We Can Winter This can serve as a model for writing your own family history.
Carmack practices what she teaches in her two bestselling guides: You Can Write Your Family History and Tell It Short: A Guide to Writing Your Family History in Brief.
Sharon DeBartolo Carmack is a Certified Genealogist® with an MFA in Creative Nonfiction Writing. She is a Certificate holder in Demonstrating Mediumship from the Spiritualists' National Union in the U.K., international branch, and an Advanced Academic Diploma holder also from the Spiritualists' National Union. Sharon is the author of twenty-five books, including the best-selling guides Organizing Your Family History Search; A Genealogist's Guide to Discovering Your Female Ancestors; Your Guide to Cemetery Research; You Can Write Your Family History; Tell It Short: A Guide to Writing Your Family History in Brief; and the recent biography, In Search of Maria B. Hayden: The American Medium Who Brought Spiritualism to the U.K. Her memoir Midlife Medium: A Genealogist's Quest to Converse with the Dead is published by Köehler Books. Her work has appeared in almost every major genealogical journal, as well as Brevity, Creative Nonfiction, Portland Review, Hippocampus Magazine, Phoebe: A Journal of Literature and Art, Steinbeck Review, and Literary Hub, to name a few.