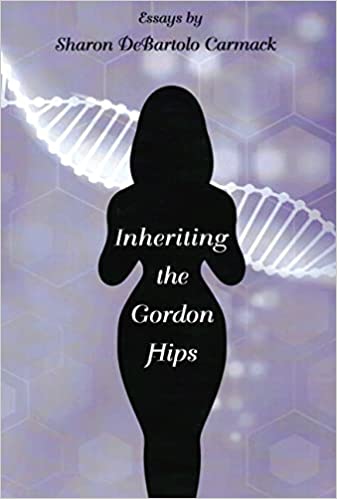 "Millions of Americans dig up their dead relatives. Their reasons vary: to learn who their ancestors were, to find living cousins, to prove or disprove a family legend, to walk the land where their ancestors lived…. Me? I'm a Certified Genealogist. I'm tracing my ancestry to learn about a critical part of my family history, something that truly matters in the greater scheme of begats, a legacy that will make a difference to the existence, lives, and self-worth of not only me, but my daughter, her daughters, and their daughters for generations to come. I'm after the woman who left me these damn hips and saddlebag thighs." 
Sharon DeBartolo Carmack delves into the world of an only child in search of family, kinship, and connection, and how, through her long career as a professional genealogist and family historian, she found what's important in life. Whether searching for dead relatives in cemeteries, treading the ground of her ancestral homesites in Ireland and Italy, or pondering her life's experiences, Carmack strives to learn and understand the nature of her origins and living connections through profound and often humorous essays.
Sharon DeBartolo Carmack is a Certified Genealogist® with an MFA in Creative Nonfiction Writing. She is a Certificate holder in Demonstrating Mediumship from the Spiritualists' National Union in the U.K., international branch, and an Advanced Academic Diploma holder also from the Spiritualists' National Union. Sharon is the author of twenty-five books, including the best-selling guides Organizing Your Family History Search; A Genealogist's Guide to Discovering Your Female Ancestors; Your Guide to Cemetery Research; You Can Write Your Family History; Tell It Short: A Guide to Writing Your Family History in Brief; and the recent biography, In Search of Maria B. Hayden: The American Medium Who Brought Spiritualism to the U.K. Her memoir Midlife Medium: A Genealogist's Quest to Converse with the Dead is published by Köehler Books. Her work has appeared in almost every major genealogical journal, as well as Brevity, Creative Nonfiction, Portland Review, Hippocampus Magazine, Phoebe: A Journal of Literature and Art, Steinbeck Review, and Literary Hub, to name a few.